The Lorraine Robinson and Maeve Coughlan Education Fund (LOMEF) is administered by Asian Resource Foundation (ARF), operated since 1998. It targets children from poor and vulnerable communities to enable access to formal and non-formal primary level quality education. It also builds the capacity of community based NGOs that apply for funding. LOMEF funds a range of programs throughout Asia and Africa that covers the cost of school materials and teachers' salaries.
Painting made by children in the Htauk Kyant Learning Center, Yangon, Myanmar
LIFE AND WORKS

OF LORRAINE ROBINSON
The Lorraine Robinson Education Fund was established in 1998 in memory of Lorraine Joyce Robinson, a mother and renowned teacher from the United States of America. In the year 2003, the fund in memory of Maeve Coughlan, also a proud mother and famous singing teacher from Ireland, joined and the fund became the Lorraine Robinson and Maeve Coughlan Education Fund (LOMEF). Both women devoted their lives to the betterment of children beyond their national borders and extended a helping hand to other continents. LOMEF seeks to participate and join hands with many other initiatives in shaping a world, which is humane, caring, just and peaceful.
Maeve O'Leary was the daughter of teachers in Blarney, Ireland. After marrying Vincent Coughlan she had a great career as one of the most famous singing teachers in Ireland with many of her students becoming international opera singers. Vincent and Maeve sacrificed many luxuries to ensure that their children had a very strong education.
Lorraine Joyce Robinson, one of ten children, was born in 1921 and lived on a farm in a small town in Northern Wisconsin. She loved helping others and decided early in her life to become a teacher with education ultimately becoming a lifetime passion for her. As soon as she graduated from college with a degree in mathematics she began her career as a high school math teacher. After moving to California with her husband, Roger, she began teaching at primary school level, however, after several years her love of mathematics took over and she became a math teacher once again. She ended her career by being a Master teacher and was responsible for helping improve younger teachers.
Lorraine and Maeve are sorely missed by family and friends and through this foundation we hope to continue their work in promoting education among children.
OBJECTIVES
To mobilize and extend financial assistance for the education of children from disadvantaged backgrounds.
To empower and develop leadership of youth towards achieving towards achieving self-reliance and dignity for serving humanity
To assist in promoting health awareness and enabling people in accessing quality healthcare.
To provide humanity and assistance to the people effected by manmade and natural disasters.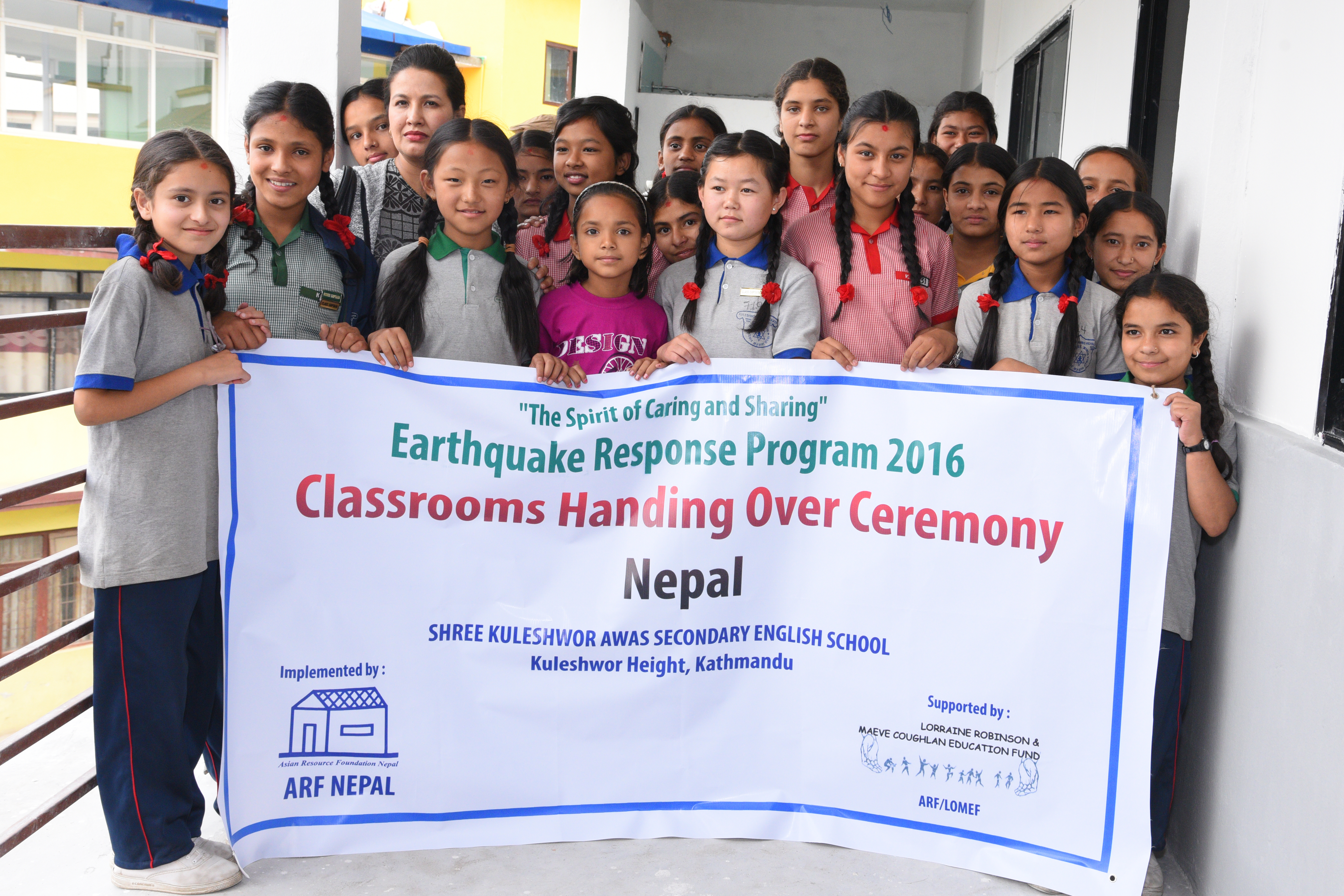 Rebuilding of classrooms and providing educational materials for Kuleshwor School affected by the Earthquake Nepal 2016
LOMEF provides grants for disadvantaged children by offering support to community based schools.
Area of Interest
Proposal
Types of Supports
Educational materials
Facilitating the ability for students to continue enrolling in their pre school, formal education, and after school
Educational and school materials such

as bags, books, stationary and

uniforms

Infrastructural Improvement of Facilities
Providing access to quality education facilities.
Building materials, labor and internal

materials such as desks, chairs and

chalkboards

Teacher salaries and support
Providing partial support to teachers and volunteers expenses to run education programs
Rental payments for the school facilities and salaries for teachers/volunteers.
Individual Scholarship
Providing partial financial assistance to public college and university students.
Tuition fees and personal expenses